New Ki Pro Ultra 12G available today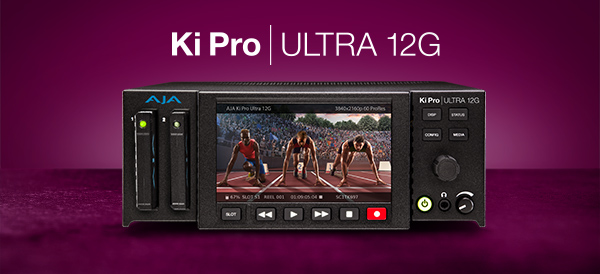 Multi-Channel HD Recorder and 4K/UltraHD/2K/HD Recorder/Player with 12G-SDI Connectivity
AJA has announced Ki Pro Ultra 12G, a new single channel ProRes/DNxHR 4K/UltraHD recorder and player or 4-channel ProRes HD recorder. With an unmatched feature set, it offers the latest 12G-SDI, 12G Fiber, and HDMI 2.0 connectivity. Available today, Ki Pro Ultra 12G supports single link 12G-SDI or quad 3G-SDI for up to 4K/UltraHD 60p recording/playback, or up to four channels of HD over 3G-SDI in multi-channel recording mode. Optional 12G-SDI HD-BNC and 12G Fiber LC SFPs are available. Learn more on the website and check out our new video for a deep dive.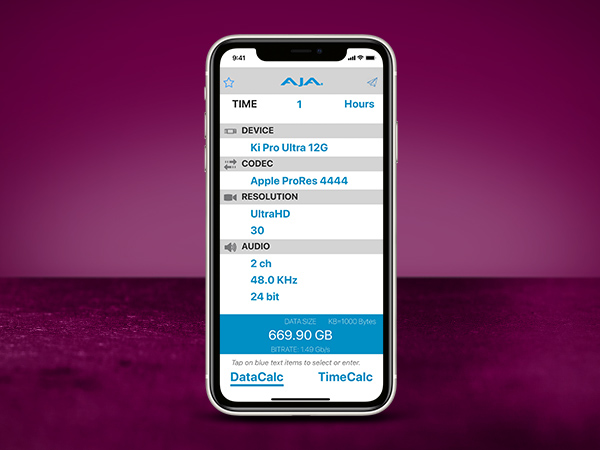 New DataCalc App Update Available Today
Support for Ki Pro Ultra 12G and New UI Advancements
AJA has released an update to its popular DataCalc app, available for download on the Apple App Store. The update includes support for the brand new Ki Pro Ultra 12G, powerful new UI advancements and new device selections to help AJA users calculate the most efficient codec when calculating the storage space required for jobs.